"The Reserve"

This property is owned by Nashville Highlands, developers from Scottsdale, Arizona. They have just finished the first construction phase, and are waiting to sell those units before proceeding. The original plans showed the development covering much of the property. Hopefully, we can work with the developers to ensure the protection of a contiguous, unfragmented chunk of forest.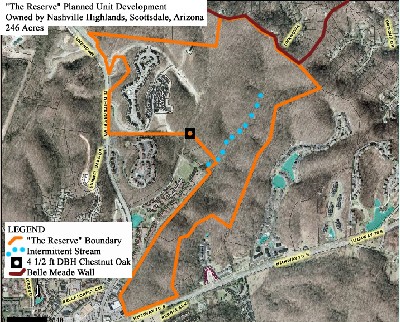 The eastern portion of the property holds 200 acres of intact mature forest, and is where the majority of the Bob Brown Park would be located. An intermittent stream flows from North to South, and is home to a plethora of salamanders and other wildlife. Walking the length of the stream, you remain in a secluded valley protected on either side by undisturbed (as of yet) ridges. At the North end of the valley you will find the Belle Meade Wall, and at the south end is a cave that once served as a spring house. The forest structure is similar to the rest of our neighborhood: Oaks on the hilltops, Sweetgums in the valleys. Here, a Chestnut Oak with a 4.5 ft diameter trunk is the widest tree in our neighborhood.
Go on to our Development Planning page to see our ideas for what well planned development here might look like.